Award-winning travel writer Sarah Khan has lived in five countries on three continents (Canada, Saudi Arabia, India, the US, and South Africa). Previously, Sarah was an editor at Travel + Leisure and Gotham magazines in New York City; these days, you can find her byline in The New York Times, The Wall Street Journal, Condé Nast Traveler, Saveur, Food & Wine, Surface, Vogue India, Virtuoso Life, and many other titles.
Follow her on Twitter and Instagram @BySarahKhan to discover #whereintheworldissarahkhan.
Save
For my second issue as editor in chief of Condé Nast Traveller Middle East, I visited Malta to learn more about the Mediterranean island's lingering Arab links. It's a fascinating place, and you can read more about it here. Also in the issue, I wrote about why I...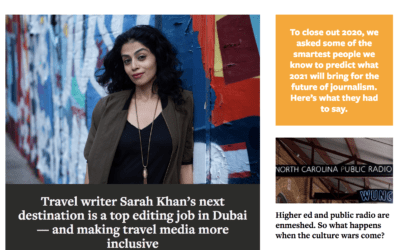 I spoke with Hanaa Tameez of Harvard's Nieman Lab about my career, the importance of diverse perspectives in travel journalism, Travel Is Better in Color, and more – you can read the whole interview here.
The South Asian Journalists Association has been an important part of my career since the very beginning, and I was honored to be asked to moderate the keynote panel of SAJA's 2021 Awards Night, "Hope and Resiliency in Journalism," with a powerhouse panel of South...
#whereintheworldissarahkhan?