Award-winning travel writer Sarah Khan has lived in five countries on three continents (Canada, Saudi Arabia, India, the US, and South Africa). Previously, Sarah was an editor at Travel + Leisure and Gotham magazines in New York City; these days, you can find her byline in The New York Times, The Wall Street Journal, Condé Nast Traveler, Saveur, Food & Wine, Surface, Vogue India, Virtuoso Life, and many other titles.
Follow her on Twitter and Instagram @BySarahKhan to discover #whereintheworldissarahkhan.
Save
I'm honored to have an article appear in the 2021 edition of Best American Travel Writing, edited by Padma Lakshmi and Jason Wilson. My essay "In the City of Saints" from Travel + Leisure was selected for the anthology, which you can order here.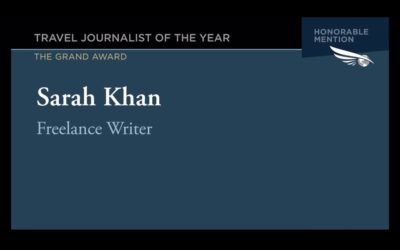 I'm honored to be recognized with an honorable mention for Travel Journalist of the Year by the Society of American Travel Writers' Lowell Thomas Awards, for my work from 2020. This is all the more gratifying, given that it was largely produced from the cozy confines...
My last freelance project before I took on my new role was this fun guide to making the most of New York City this fall for Cole Haan.
#whereintheworldissarahkhan?